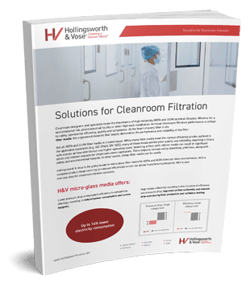 Cleanroom designers and operators know the importance of high-reliability HEPA and ULPA terminal filtration. Whether for a semiconductor fab, pharmaceutical facility or other high-tech installation, terminal cleanroom filtration performance is critical to safety, operational efficiency, quality and compliance. At the heart of every filter is the filter media: the engineered material that largely determines the performance and reliability of the filter.
Not all HEPA and ULPA filter media is created equal. While many filter media meet the various efficiency grades outlined in the applicable standards (e.g. ISO 29463, EN 1822), many of these media exhibit poor quality and reliability, resulting in filters with uneven airflow distribution and higher operating costs. Selecting a filter with inferior media can result in significant direct and indirect impacts for cleanroom owner-operators. These impacts include costly downtime, yield loss, along with safety and environmental hazards. In other words, cheap filter media can be costly.
Hollingsworth & Vose is the global leader in micro-glass filter media for HEPA and ULPA filters for clean environments. With acomplete product range covering all relevant efficiencies across our global manufacturing footprint, H&V is your one-stop shop for cleanroom filtration solutions.