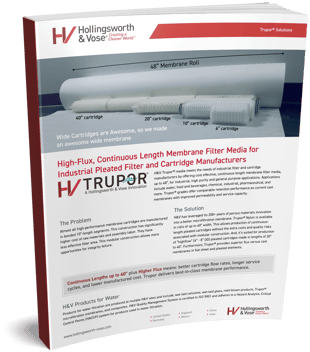 H&V Trupor® media meets the needs of industrial filter and cartridge manufacturers by offering cost effective, continuous length membrane filter media, up to 48", for industrial, high purity and general purpose applications. Applications include water, food and beverages, chemical, industrial, pharmaceutical, and more. Trupor® grades offer comparable retention performance as current cast membranes with improved permeability and service capacity.
The latest industry findings indicate that on top of high-efficiency protection, engine fuel consumption is closely related to the resistance of the engine air intake filtration system. Given the backdrop of carbon neutrality initiatives, global auto OEs—especially heavy-duty truck OEs—face huge challenges to saving fuel consumption.
The Problem
Almost all high-performance membrane cartridges are manufactured in bonded 10"-length segments. This construction has significantly higher cost of raw materials and assembly labor. They have less effective filter area. This modular construction allows more opportunities for integrity failure.
The Solution
H&V has leveraged its 200+ years of porous materials innovation into a better microfiltration membrane. Trupor® Nylon is available in rolls of up to 40" width. This allows production of continuouslength pleated cartridges without the extra costs and quality risks associated with modular construction. And, it's suited for production of "highflow" (6" - 8" OD) pleated cartridges made in lengths of 20" to 40". Furthermore, Trupor® provides superior flux versus cast membranes in flat sheet and pleated elements..